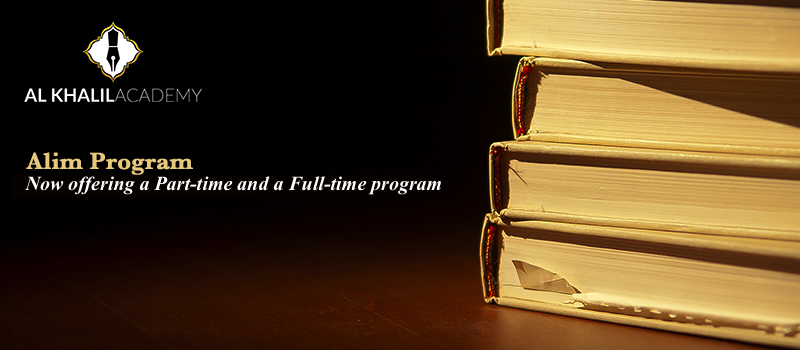 The Alim (Islamic Scholar) program offered by Al-Khalil Academy is a well-designed and structured Islamic studies program following the traditional madrasah curriculum. Our Part-time Alim program was launched several years ago in Toronto as a pilot and is now open to the general public. This program is uniquely structured and well-suited for students and professionals alike who would like to pursue their higher Islamic educational goals but are unable to travel overseas.
New this year, Al-Khalil is introducing a Full-time Alim program. This program offers the traditional madrasah curriculum through a morning class schedule that dedicates the afternoon for students to use Al-Khalil Academy's on-campus study space to take online high School or university courses with mentorship and academic support from senior students.
---
Key Features of the Program
---
Practicality
Our Part-time Alim program caters specifically to university students and professionals. Majority of the students in our program are either pursuing their university studies or are employed after having graduated from university. From the very beginning, this program was designed to fit the schedules of our students so that they can pursue excellence in their respective fields and also pursue expertise in the Islamic sciences by becoming an Alim. The classes in this program's initial years occur twice during weekdays in the evenings and once on Saturday from morning to afternoon totalling 10 hours of class time per week. The last two years of the program are full-time.
Our Full-time Alim program is ideal for high school students. Students in this program must attend classes from Monday through Friday. Each day, 4 hours of morning are dedicated to Islamic Studies while 5 hours of the afternoon are dedicated to high school courses taken online. Students are also required to spend 2 hours of the evening revising the day's lessons in group study circles.
---
Structure
The format of our Alim program is based on our hands-on experience teaching and mentoring various students of knowledge over a course of several years. Consultations with students in the program and reviewing their unique situations allowed us to develop a uniquely structured program which takes into account the circumstances of today's busy student or professional without compromising on the quality of the Islamic education.
---
Rigorous Learning
Our students, unlike at many other institutions, are expected to engage themselves in the learning process at a very high level by actively analyzing and synthesizing the content under study. Students in our program do the bulk of the work in terms of preparing for lessons and understanding them. The teacher, in the traditional style, guides the students in the right direction and is available to clarify concepts further.
The three main components of the learning process in our program are (1) self-study i.e. preparing the lesson ahead of the class comprehensively, (2) revision of the lessons of the day and (3) delivery of the lesson to the teacher and the class.
---
Relevance
The part-time nature of the program allows students who have the thirst for seeking knowledge in a classical and traditional format to locally attain these goals with local scholars without having to put brakes on their life in the initial year of Islamic studies by having to travel overseas. The local nature of the program also allows for learning solutions to contemporary challenges facing our society.
---
Program Overview
---
Part-time Alim Program

Duration
7 Years

Commitment
Part-Time (Years 1 to 5)
Full-Time (Years 6 and 7)

Tuition
$100.00/month
+ Registration Fee
+ Books

Academic Schedule
Term 1: September – December
Term 2: January – April
Term 3: May – August

Full-time Alim Program

Duration
6 Years

Commitment
Full-Time (Years 1 to 6)

Tuition
$300.00/month
+ Registration Fee
+ Books

Academic Schedule
Term 1: September – December
Term 2: January – April
Term 3: May – August
---
Curriculum
---
The following is the curriculum for the Part-time Alim program. The Full-time Alim program will cover the same material but in 6 years.
Part Time Years
Year 1 & 2
The first two years of the program (Years 1 and 2) are Arabic-intensive, focused on building solid Quranic Arabic skills. To begin our Alim program, all students are required to complete our Quranic Arabic Intensive 2-year program then complete a bridging semester to enter into Year 3 (below) of the Alim program.
For details, see Quranic Arabic Intensive Program
Year 3
FIQ310 – Intermediate Fiqh I: Worship
FIQ320 – Intermediate Fiqh II: Transactions
ARB310 – Arabic Literature I
ARB320 – Arabic Poetry
QUR300 – Qur'an Translation I
MAN301 – Introduction to Logic (Mantiq)
USL301 – Introduction to Usul al-Fiqh
The third year of the program is where texts such as the Mukhtasar al-Quduri and Nafhat al-'Arab are introduced, including introductory primers on Arabic poetry, mantiq (logic) and usul al-fiqh (principles of Islamic jurisprudence).
Year 4
FIQ410 – Advanced Fiqh I
ARB410 – Arabic Literature II
USL401 – Usul al-Fiqh I
QUR400 – Qur'an Translation II
ARB430 – Balaghah
AQD401 – Islamic Creed I
The fourth year of the program covers selections from Sharh al-Wiqaya, the first volume of al-Hidayah and also the Usul al-Shashi. Primers on balaghah and aqidah are also part of this year in addition to Qur'an Translation of one-fourth of the Qur'an.
Year 5
FIQ510 – Advanced Fiqh II
FIQ520 – Advanced Fiqh III
QUR500 – Tafsir I
AQD501 – Islamic Creed II
USL510 – Usul al-Tafsir
FIQ530 – Fiqh of Inheritence
USL520 – Usul al-Fiqh II
The fifth year of the program delves deeper into fiqh focused around the text, al-Hidayah, and introduces advanced tafsir through the famous Tafsir al-Jalalayn. This year also covers the Sharh al-Aqa'id al-Nasafiyyah and the Nur al-Anwar in addition to primers on usul al-tafsir and the fiqh of inheritance.
---
Full Time Years
Year 6
FIQ610 – Advanced Fiqh IV
FIQ620 – Advanced Fiqh V
QUR600 – Tafsir II
HAD610 – Advanced Hadith I (Mishkat)
HAD620 – Advanced Hadith II (Mishkat)
USL601 – Usul al-Hadith
HAD630 – Hadith al-Ahkam
The sixth year, commonly known as the mawquf alayh, results in the completion of al-Hidayah, Tafsir al-Jalalyn and Mishkat al-Masabih. In addition to these texts, a primer on usul al-hadith is covered and selections from the Muwatta of Imam Muhammad and the Sharh Ma'ani al-Athar are studied.
Year 7: Dawrah Hadith
The seventh and final year is an intensive year covering the six major hadith books (Bukhari, Muslim, Abu Dawud, Nasa'i, Tirmidhi and Ibn Majah) in addition to the Muwatta of Imam Malik. After the completion of this year, an ijazah (permission) is granted to students in hadith in these major books of hadith from the teachers.
---
Admissions
Click here to learn more about admissions.
---
Location
Al Khalil currently holds classes in two locations. Students who are enrolled will be given the exact location for each of their weekly classes.
Al Khalil Main Campus
2 Thorncliffe Park Drive,
Toronto, ON M4H 1H2
(Enter through the front entrance of Unit 28 and walk past Topline Income Tax Services)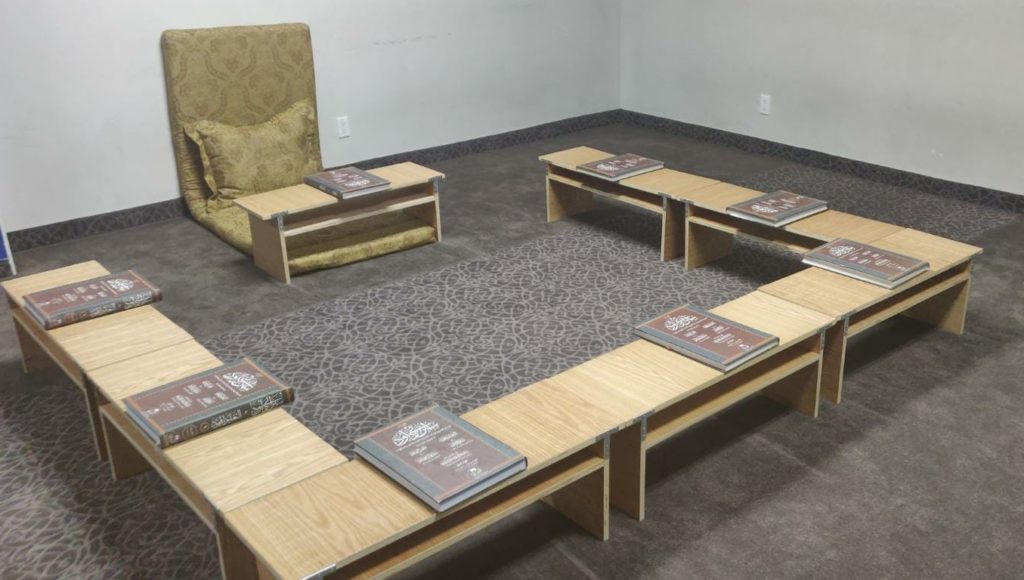 Al Ansar Islamic Center
43 Railside Rd,
North York, M3A 3L9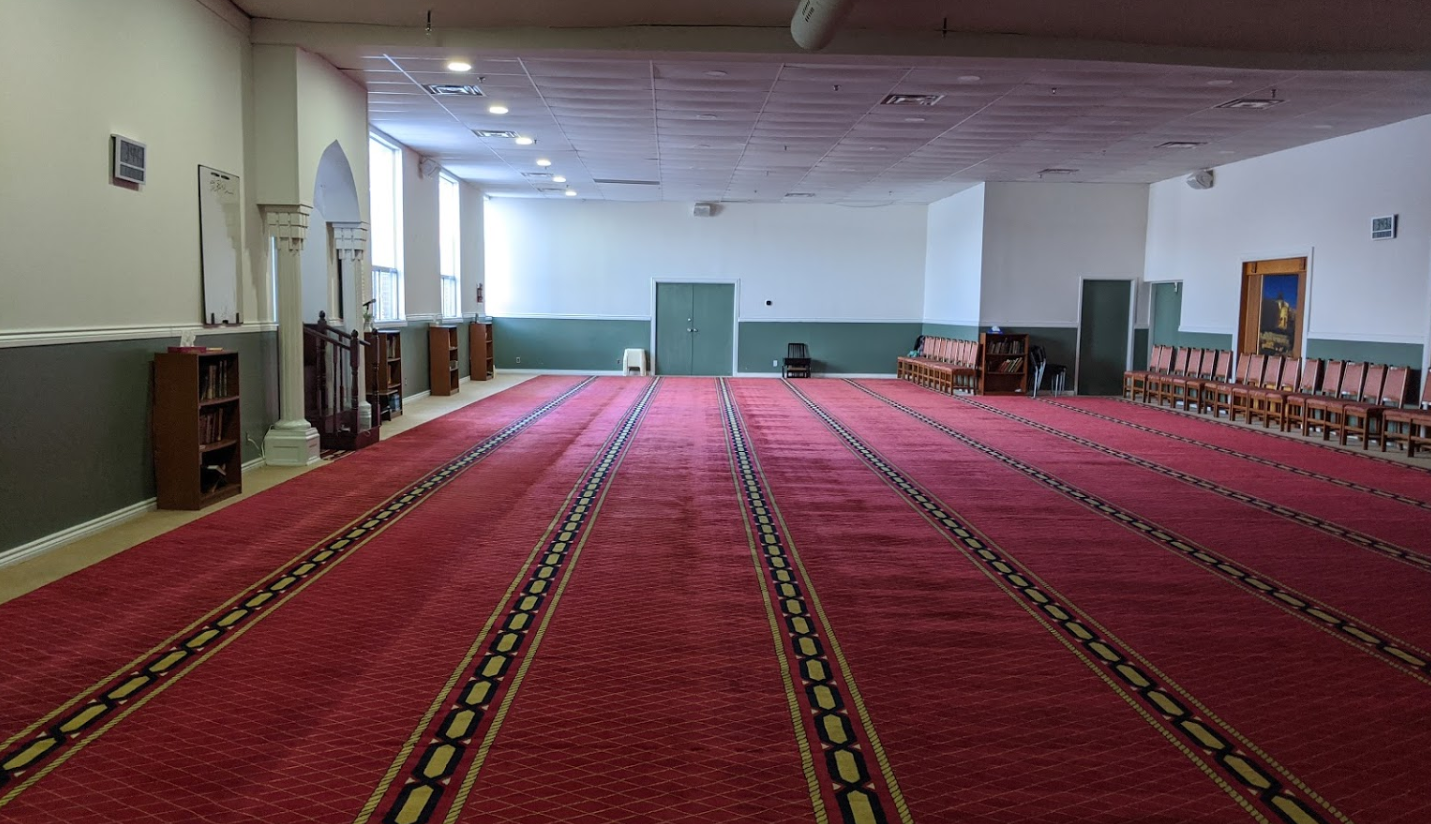 By the grace of Allah, Al Khalil Academy is holding classes in Al Ansar Islamic Center. Located in the heart of City of Toronto and easily accessible by public transit, Al Ansar Islamic Center caters to the culturally diverse Muslim population of Toronto.
---